Twenty-nine Mazda racers claimed titles in four conferences after the Sports Car Club of America U.S. Majors Tour season concluded in August.
The U.S. Majors Tour is a collection of National-level SCCA Club races designed to elevate the racing experience for participants and serves as the top tier of National Championship racing. Events are held in four geographic conferences, with champions crowned in each. Majors racing also offers a path to qualify for the SCCA National Championship Runoffs. Events are held at America's best racing circuits, such as Sebring International Raceway, VIRginia International Raceway, Road America, Circuit of the Americas and Auto Club Speedway.
While 11 of the drivers who claimed conference titles were in spec classes where only Mazda cars or engines are used – Spec Miata, Formula Mazda and Formula Enterprises – the rest were in classes where a variety of makes and models compete.
The Mid-States Conference had the most Mazda champions, with Mazda-powered drivers winning 10 of 16 classes where Mazda cars or engines compete. The Northern Conference Spec Miata field was the biggest of any class in any conference, with 123 different drivers scoring points.
Mazda U.S. Majors Tour Conference Champions
Eastern Conference
Spec Miata – Danny Steyn
Formula Mazda – Robert Noell
Formula Enterprises – Paul Schneider
E Production – Donald Walsh (RX-7)
F Production – Richard Fohl (Miata)
Super Touring Limited – Raymond Philibert (Miata)
Touring 4 – J. Brian Price (MX-5)
Northern Conference
Spec Miata – Michael Novak
Formula Mazda – Jason Vinkmulder
Formula Enterprises – Scott Rettich
C Sports Racing – Jacek Mucha (JMS/Mazda)
Super Touring L – Bruce Anderson (Miata)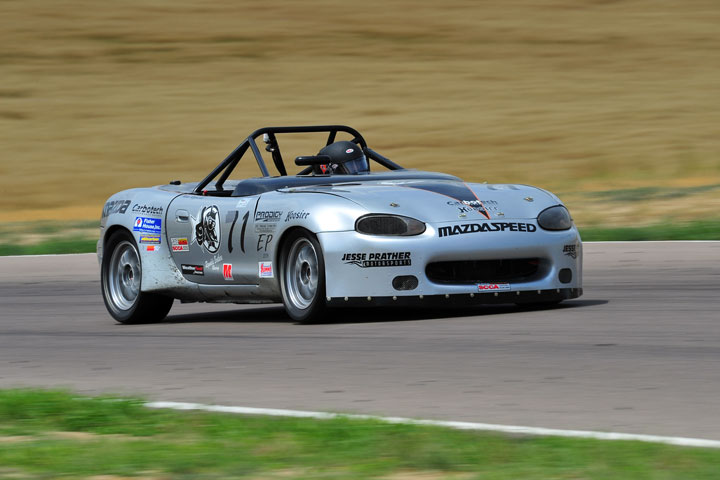 Mid-States Conference
Spec Miata – Jim Drago
Formula Mazda – Alan McCallum
Formula Enterprises – Henry Donohoo
Formula Atlantic – Gaston Kearby (Pro Formula Mazda)
GT3 – Robert Herman (RX-7)
GTL- Kent Prather (Miata)
E Production – Matthew Reynolds (Miata)
F Production – Eric Prill (Miata)
Super Touring L – Robert Schader (Miata)
Super Touring U – Thomas Kraft (Miata)
Western Conference
Spec Miata – Joey Jordan
Formula Mazda – TJ Fischer
E Production – Gary Gist (RX-7)
F Production – Sean Powers (Miata)
Super Touring – U Marc Hoover (Miata)
Touring 4 – Lance Stewart (Miata)
B-Spec – Derrick Ambrose (Mazda2)