For 10 years, the Mazda3 has been not only a great road car that can carry people and stuff with great mileage or, in the case of the MAZDASPEED version, get them there in a hurry, but it has also been a staple of race teams looking to get the most bang for their buck.
For 2014, Mazda is introducing the next generation of its popular compact with an all-new platform and two SKYACTIV engines. And just as Michael Cooper drove a MAZDASPEED3 to the Pirelli World Challenge Touring Car Championship in 2012, many racers will choose the new version of the car as a basis on which to build a racecar.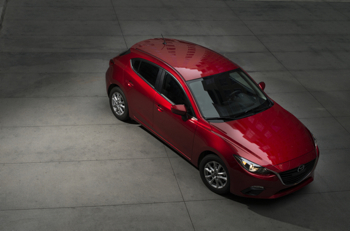 Styled with the dynamic KODO design language that has been the hallmark of recent Mazda models, the new Mazda3 is lower and leaner, running on a longer wheelbase but with shorter overall length. Yet it offers similar headroom, more shoulder and hip room than its predecessor.
Two engines will initially be offered in the Mazda3, a 2.0-liter engine and a 2.5-liter engine good for peak horsepower of 184 and 185 ft.-lbs. of torque. That's more horsepower and more torque in the low and mid ranges than the MZR it replaces, in an engine 10 percent lighter. The SKYACTIV-MT 6-speed manual transmission is designed to offer a short, crisp shift pattern reminiscent of the MX-5.
The Mazda3 offers brake energy regeneration without the use of heavy batteries. The I-ELOOP system uses a capacitor to power the electric components, reducing parasitic drag on the engine by the alternator.
Increased rigidity of 30 percent over the old model, along with suspension tuning, will mean even crisper and more precise handling.
For those planning on using their Mazda3 on the road rather than the racetrack, a full compliment of safety features that Mazda terms I-ACTIVSENSE is designed to both prevent crashes and keep the occupants safe in case of one. Blind Spot Monitoring, Lane Departure Warning System, Forward Obstruction Warning and Smart City Brake Support are designed to avoid collisions. The SKYACTIV-Body is designed to absorb impact energy from any direction, and the interiors includes six airbags and whiplash-reducing headrests to reduce injury in case of an accident.
Whether the intended route includes the Corkscrew at Mazda Raceway Laguna Seca or a few lefts and rights to get to work or school, Mazda offers all its registered racers a discounted price on new Mazda vehicles through S-Plan pricing. See the Member Benefits page at http://www.mazdamotorsports.com/wcsstore/B2BDirect/Motorsports/memberBenefits.html.
For more information on the 2014 Mazda3, see*** http://www.mazdausa.com/MusaWeb/displayPage.action?pageParameter=modelsMain&vehicleCode=M3N.