For more than a decade, the winning trend in the Sports Car Club of America's C Sports Racing category has been to rebody a Formula Atlantic car to meet the sports racing rules. The Formula Atlantic cars are fast, and adding the bodywork tends to make them quicker. Usually those who make the conversion use the existing FA engine, whether it's a Mazda MZR or something else.
Jim Downing chose a different route with his Peach Day-02/Mazda.
"I've been racing rotaries since 1974; I don't know why I would stop now," says Downing, whose racing career began with an Elva Courier and includes Formula Vee at the first SCCA Runoffs and IMSA Radial Sedan, GTU and Camel Lights championships. "There's a whole group of people in the world who love rotary engines."
The chassis is based on a Ralt RT-40 Formula Atlantic from the mid-'90s. Except it's not that old.
"It's an RT-40, but it's a brand-new tub…well, it's a year-and-a-half old," Downing explains. "The molds are in Georgia. We had it built, because I have one of the original ones back at the shop. Then we build everything else – all the bodywork, everything except the tub. And it fits the Mazda rotary nicely."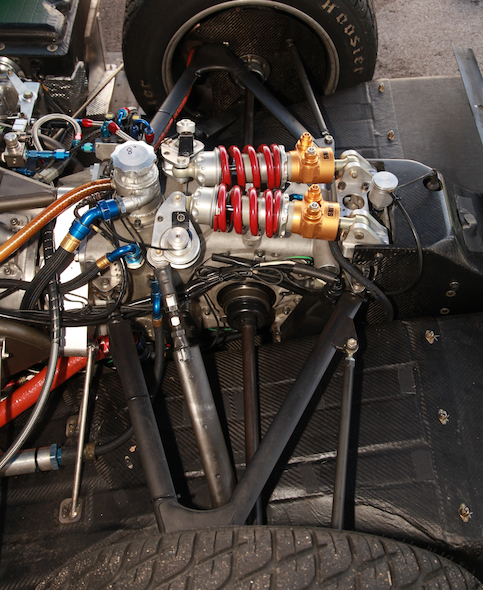 The rotary in this case is a 13B peripheral port with fuel injection built by Rick Engeman. Due to the rules, the engine has to breathe through an air restrictor intended to balance power. That power goes to the wheels through a sequential gearbox.
On the engine front, some of the biggest competition these days is from motorcycle engines. A motorcycle-engined car won the SCCA National Championship in 2013.
"We have about every trick you can imagine, trying to keep up with those darn motorcycle-engine cars," laughs Downing. "They weigh 900lbs., we weigh 1300lbs. And they punch a small hole through the air. We punch a little bigger one, but we're pretty aerodynamic and we make a bunch of downforce from the bottom side.
"We've got a certain amount of power because of the air restrictor. So then you try to decrease drag but make enough downforce to make sense. So the bottom side of our racecar is pretty trick, and the top side is slick. We've got to get our weight down to minimum like everyone else. And then you deal with the particular characteristics of racing a rotary engine, which means you have a little bigger oil cooler and you've got to get good air to your radiators. It's all standard stuff."
Standard stuff it may be to Downing, but it's a pretty unique car in the paddock. And it's quick enough in Downing's hands to be only a couple of seconds off the Daytona Prototype times around Road America.