Matt Schultz had already been racing karts for 18 years when he decided it was time to go car racing. When he did, he jumped straight into Spec Miata. Six years later, he's the NASA Spec Miata National Champion.
"I started to research the classes, and I felt Spec Miata was a pretty good class to get in due to the participation and the fact that Mazda had a really good support program. In talking to people, they said it was a very competitive class. Karting is very competitive and Spec Miata is really similar along those lines," Schultz says.
The Oregon driver and business owner – he owns SMI Motorsports in Oregon City – started racing in Spec Miata toward the end of 2007, running SCCA Regionals in Oregon Region. He started traveling to some other areas to race in the Pacific Northwest and moved to National racing in SCCA. He started running NASA races this year now that the organization had a chapter in the Northwest. His first NASA race was with Team MiataCage.com at the 2012 25 Hours of Thunderhill.
"I get a little support from MiataCage.com, and after I ran the 25 Hours of Thunderhill, Sean [Hedrick] from MiataCage said the NASA National Championships were going to be pretty close to the West Coast in Salt Lake City [at Miller Motorsports Park]. Four of us decided to go compete at the Nationals," Schultz says.
Schultz's National Championships experience started off a little rough as he struggled to get setup right in practice. It got rougher in the first qualifying heat race.
"In the first heat race, I was running in third position and got hit," he says. "That caused me to spin and I ended up 16th. They take the two qualifying races and combine them for starting position. The second race started a bit rough, too. I was running back in eighth position and there was a full-course caution toward the end of the qualifying race. I managed to get a bunch of cars on the restart and ended up finishing the second qualifying race in third."
That left him with a sixth-place starting position for the championship race.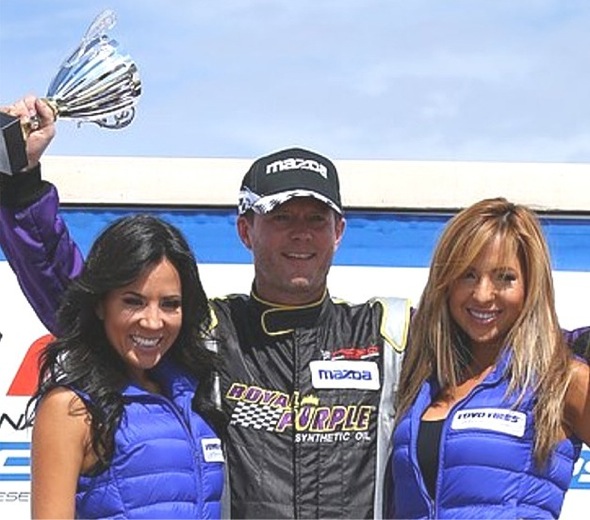 "I tried to move up as quickly as I could. We were in a 10-car train just cruising around for the first couple of laps. It was hot out, and I wanted to keep the engine cool. I tried to make some moves and get by some guys, which really paid off. I ended up ultimately in the front. Tyler Vance was racing with me in the second spot, and he really helped me out by not fighting me but working with me. That was a big asset to me early on before I was able to gap the field a little bit," Schultz says.
In 2014 he plans to have a go at the SCCA National Championship Runoffs when the event goes to Mazda Raceway Laguna Seca, a fairly short tow from Oregon to California. He is also trying to find funding to do some Playboy Mazda MX-5 Cup races as well; he ran two rounds of the series at Mazda Raceway in 2012.