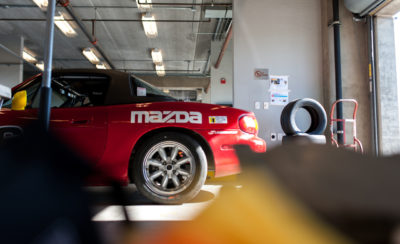 With many sanctioning bodies and race classes to choose between, Mazda Motorsports offers club racers comprehensive support, including parts, tech, and contingency awards (prize money & scholarships). Whether you're interested in sprint racing, endurance racing, or a combo, there are many club racing options in which Mazda will support you. If you haven't signed up for the Mazda Team Support Program, it should be your first step.
Mazda and Mazda-powered cars are eligible to run in club racing organizations (e.g., Sports Car Club of America, National Auto Sport Association, World Racing League, Lucky Dog Racing, American Endurance Racing, Badger Midgets, SCDA, Sportcar Vintage Racing Association, and others), and in pro racing (Idemitsu Mazda MX-5 Cup and TC America).
MX-5 Cup Shootout Scholarships
2022 marks the 17th year for the MX-5 Cup Shootout and scholarships; since 2020, Mazda has offered three scholarship per year, with the top award valued at $110,000 – the largest in club racing, as well as two others, each valued at $75,000. The expansion in number of the scholarships helps Mazda to guarantee one woman to earn a scholarship.
This one-of-a-kind, post-season Shootout, aids these three drivers to compete in the Idemitsu Mazda MX-5 Cup presented by BFGoodrich® Tires each year, a professional racing series in IMSA.
Championship winning club racers competing in a Mazda who win an SCCA Runoffs National Championship, NASA Championship, NASA's Teen Mazda Challenge region, SCCA' First Gear Mazda Challenge region, or Spec MX-5 Challenge national championship, automatically earn nominations to the MX-5 Cup Shootout. Recognizing that talented and deserving drivers may not always be in a position to win a championship, Mazda may select other racers as at-large nominees. These nominees - fewer than 30 combined - have the opportunity to submit a business plan, video and resume to then be selected as finalists who compete in a two-day shootout. For those who make it as a finalist to compete at the Shootout, they should expect a test of on- and off-track skills: interviews to learn more about the finalists' off-track business prowess, vehicle dynamics and more, as well as their abilities behind the wheel of the Mazda MX-5 Cup race car.
The three winners of the MX-5 Cup Shootout earn the scholarships that total a value of $260,000 (top award: $110,000; additional two each valued at $75,000) and the opportunity to earn the series' $250,000 champion's scholarship, the $80,000 Rookie-of-the-Year scholarship, or thousands more.
S-Plan Certificate
The Mazda Employee Pricing S-Plan is offered by Mazda North American Operations to provide those individuals affiliated with Mazda products and services with the opportunity to purchase or lease a new Mazda vehicle with a no-hassle, set price at a significant savings versus the Manufacturer's Suggested Retail Price. Mazda Motorsports members can generate an S-Plan pin by www.MazdaUSA.com/Splan and entering your partner ID from the SCCA or other sanctioning bodies. Mazda Team Support Program members may call Mazda Motorsports at 800.435.2508 to request one to be generated and emailed. Take your printed certificate to your local participating Mazda Dealer to receive exclusive pricing on the new vehicle of your choice.