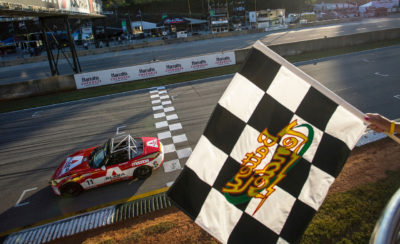 About the MX-5 Cup race car: Start as brand new, complete MX-5 road cars from the Mazda factory in Hiroshima, Japan, before being transported to engineering development partner, Flis Performance in Daytona Beach, Florida where they are transformed into a complete race car and sold. The process includes disassembly of the production car, followed by welding, paint, as well as a full roll cage and interior, and then assembly of the race car with more than 250 motorsports-specific parts. Other components of the car, including the Mazda SKYACTIV 2.0-liter engine, are sealed to ensure even competition and a cost-effective platform, as well as the SADEV Sequential 6-Speed Gearbox, which has solidified the durability of the ND2 car and elevated performance within the MX-5 Cup Series.
With whom should I speak about the MX-5 Cup car, including o
rdering the car?
Please call Flis Motorsports at 386-256-7021 for inquires or to place an order for a new MX-5 Cup car. There are several optional customizations, so call Flis Performance for more information. After you have purchased a car, please call Mazda Motorsports, 800-435-2508, Monday – Friday, 6:30 am – 3:30 pm PT to have your Mazda Team Support Program account receive an automatic discount on MX-5 Cup parts bought at our online store.
What documentation comes with the car?
• Vehicle homologation document
• Listing of all unique serial numbers for each car
• Maintenance schedules and procedures
• Bill of sale (no title)
To learn about the MX-5 Cup race series, go to MX-5Cup.com or email Mazda Motorsports' Program Manager Jonathan Applegate at JAppleG2@MazdaUSA.com.