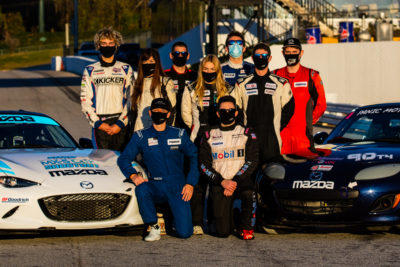 The path to pro begins at the grassroots level for racers ready. Those who put in the work on- and off-track, may embark on a path that takes them to the pinnacle of American sports car and endurance racing in the Rolex 24 At Daytona or to what many say is the most competitive pro racing – Idemitsu MX-5 Cup presented by BFGoodrich® Tires® .
2021 marks the 16th year for the MX-5 Cup Shootout, now offering three scholarships – one valued at $110,000 – the largest in club racing, with two more each valued at $75,000. This one-of-a-kind, post-season Shootout aids drivers to compete in the MX-5 Cup, where there is more than $500,000 on offer from Mazda, $250,000 going to the champion and $85,000 for the Rookie-of-the-Year.
Club racers competing in a Mazda who win an SCCA Runoffs National Championship, NASA Championship, NASA Teen Mazda Challenge regional championship, or the First Gear Mazda Challenge regional championship automatically earn nominations to the MX-5 Cup Shootout. Recognizing talented and deserving drivers may not always be in a position to win a championship, Mazda may select other racers as at-large nominees. These nominees – fewer than 30 combined – have the opportunity to submit a business plan, video and resume to then be selected as finalists who compete in a two-day shootout. The first day, historically, has been focused on interviews to learn more about the finalists off-track business prowess, vehicle dynamics and more; day two is focused on the performance behind the wheel when the finalists pilot the MX-5 Cup car.
Related Content
More Information