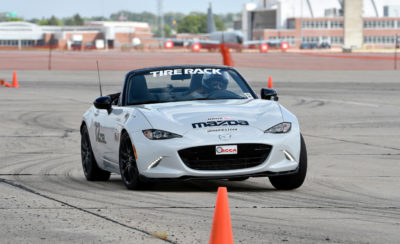 SCCA Solo is the Sports Car Club of America's autocross competition. SCCA holds events in every region of the country making Solo competition accessible and easy. Because of the quick directional changes and quick acceleration and braking nature of autocross, Mazdas have always been a popular choice for autocross competitors.
SCCA Time Trials is a place for mechanical creativity, driver development and envelope pushing. This is much more about your experience and personal challenge than it is about winning and losing. This quest is also collective. It is about a community that has accepted the challenge of the track. One that believes that the battle is best fought on the same team, and that the next best thing to achieving greatness is witnessing it.
Mazda Motorsports supports Mazda autocrossers and Time Trials competitors with parts discounts, technical support, and the most contingency awards in the sport (see pages 9 & 10 for payouts). Additionally, in autocross, Mazda supports the Wendi Allen Scholarship program, which awards three deserving women drivers with racing scholarships.
If you plan to compete in a Mazda, and have not yet signed up for the Mazda Team Support Program, this is your next step.
S-Plan Certificate
The Mazda Employee Pricing S-Plan is offered by Mazda North American Operations to provide those individuals affiliated with Mazda products and services with the opportunity to purchase or lease a new Mazda vehicle with a no-hassle, set price at a significant savings versus the Manufacturer's Suggested Retail Price. Mazda Motorsports members can generate an S-Plan pin by www.MazdaUSA.com/Splan and entering your partner ID from the SCCA or other sanctioning bodies. Mazda Team Support Program members may call Mazda Motorsports at 800.435.2508 to request one to be generated and emailed. Take your printed certificate to your local participating Mazda Dealer to receive exclusive pricing on the new vehicle of your choice.